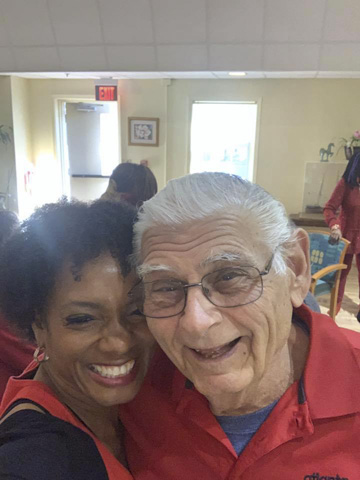 Senior Programs
Zumba Gold/ Toning and Chair Fitness and Silver Sneakers with LL Dance and Fitness LLC
Zumba Gold Fitness is a comprehensive fitness program that incorporates standing/chair dance and strength training exercises while grooving to some of America's Golden Oldies, Motown Hits, Today's Top 40 and a sprinkle of Salsa.
This fitness format is great for individuals that are well seasoned in life and that might have problems standing for an entire workout and or have limited mobility. This class is also great for those that just want to come and shake things up a little. Each movement is focused on the individual's physical needs and ability.
We now offer Silver Sneakers Fitness Formats
Silver Sneaker Classic
Silver Sneakers Yoga
Silver Sneakers Fall Prevention
Taking a Zumba Gold/Toning Chair and Silver Sneakers Fitness classes helps to improve, but not limited to some of the following:
Improve   Cardiovascular Capacity
Improve overall muscular strength and endurance
Preserved, restored and/or improved flexibility
Improve range of motion
Improve posture
Improve ability to perform pain-free daily activities
Click on image to view album
Here are a few testimonies from a few of your fellow Campbell-Stone Senior Living in Buckhead.
"Zumba (Gold) is very enjoyable, actually helps my mind and soul."
-Sandra
"Enjoyable, keeps me active, feel energetic, bones feels stronger, it eases my pain, don't think i can live without it."
-Margaretha
"The exercises are good for my bones, keeps the swelling down, I love the teacher."
-Emma
"Great time to fellowship with other residents, I really look forward to the classes, these classes have strengthened me physically. Thank you Campbell-Stone for providing these classes."
-Roberta